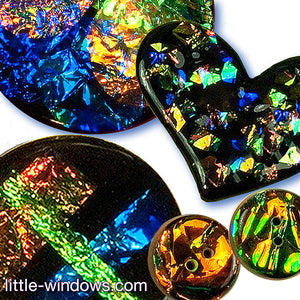 New and full of gorgeous project ideas, scroll down to watch!
WATCH THIS HOW-TO VIDEO:
Here are some of the actual projects made during this video, although they are much more impressive, colorful and shiny in person :)
This pin was made by combining one of our cast pieces with one of the domed pieces:
CLICK HERE for tips on turning your resin creations into jewelry, buttons, drawer pulls and more. 
And more from our previous post...
Love, love, LOVE these new looks we're getting with the new Little Windows Dichro-ISH supplies.
Here's our original Dichro-ISH video, some things have changed since this was created, like our Black Colorant has been improved from a black powder to an easier-to-blend, less messy gel:
For these projects you'll need:
FROM little-windows.com:
Findings
(jumprings, chains, pins, etc.)
Drill
(Spring Drill or Creative Drill recommended)
FROM HOME:
Dry paper towels
Sharp scissors
A timer
Dust covers  (come with Little Windows molds)
Click here to buy your Dichro-ISH Supplies!
Here's a Dichro-ISH Films color chart for your reference:
Here's another idea - use clear resin to Dome Up for buttons, rings, and hair bobbles like these:
Here's what Stephanie in Pensacola, FL has been making with Dichro-ISH, glitter and sequins, so cool!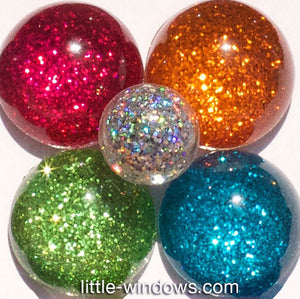 There are many ways to add color to Brilliant Resin, they each have pros and cons.  Here are the ones I love best, WITH HOW-TO VIDEOS:
Resin Color Film
This is the cleanest and easiest way if you're going for transparent color.  Just cut to fit the shape of your mold or resin piece.
WATCH THIS HOW-TO VIDEO:
Here are some examples of how you can layer Resin Color Film:
Dichro-ISH Films 
Used with or without a black resin backing, these films add beautiful color and dimension.  Add a sheet, bits and pieces, or a cut-out shape.
WATCH THIS HOW-TO VIDEO:
Liquid/Gel Resin Colorant
Great options for opaque color, these blend easily without adding many bubbles.  The black pieces below were made with our Dichro-ISH Black Colorant, the white stripes were made with our opaque White Resin Colorant.
Layers with colorant and glitter mixed in.  Shallow cast in 2" cavities.
You can have fun mixing colors too, either letting one set up a bit before adding another, or blending them together to create unique designs. 
I made the projects below using a bit of leftover black and white colored resin. I had some in my mixing cup from another project.  It was nice and thick as it had been sitting for about 1/2 hour, so I used it to make spots in the bottom of my Medium Rectangle Mold. I let those spots harden, then poured resin with our White Colorant mixed in over it. For the one with the white spots and black background I reversed the application.

This is a super-easy project, but the key is to let the color you'll use for the spots get nice and thick so it stays where you put it in your mold.
WATCH THIS HOW-TO VIDEO:

 
Layering paint, nail polish, glitter, or photos:

WATCH THIS HOW-TO VIDEO:

 
Glitter 
From fine cut to big and chunky, WE LOVE GLITTER!  You can mix any color in with your resin batch.  CLICK "Resin Glitter Fun" to the right for more info and a how-to video 
FOR MORE INFO WATCH THIS HOW-TO VIDEO:
Combine Resin Color Film and Glitter!
Acrylic Paint 
Between layers of set resin, not mixed in as that can affect cure time and final results.
This piece was incorporated into a cabochons necklace.
These are acrylic paint skins, punched into heart shapes and domed with Brilliant Resin.  They're lightweight and each one is unique so they make great jewelry.
Nail Polish
As with acrylics, paint between or over layers of set resin, don't mix it in as that can affect cure time and final results.

You can also combine acrylic paint and nail polish
FOR MORE INFO WATCH THIS HOW-TO VIDEO:
Alcohol Inks 
Such fun!  From petri projects to painting on photos to splatter patterns, alcohol inks are so much fun to use in Brilliant Resin!  Here are some projects from our Double-Sided Molds tutorial: 
You can see the petri bangle technique in detail in this tutorial from Myriam's Nature

This can be hit-or-miss as some ink colors react with the resin in weird ways. Here are some experiments we've done by applying inks to a photo, and between layers of resin:

For this test I spashed alcohol inks onto our Clear Photo Film, then punched out some circles and domed them with Brilliant Resin.
Then I figured out how to create these tie-dye type looks:
Here's a hit from our friend Chrissy Lampitt, she added inks to the tile, then stamped, then sealed it all with resin:
You can mix a little alcohol ink into your resin for transparent color, but results vary, and if you add too much it will affect resin set-up.
In the Petri Technique you drip white and colored alcohol inks into resin, here are some examples of how this can look in cast eyes:
This technique is random, some are amazing others are duds.  Here are some of my favorites:
FOR MORE INFORMATION ON COLORANTS:
In this how-to video, you can fast-forward to 5:30 and 10:00 to focus on colorants: