Resin your Fabrics - Domed Buttons
What you'll need to make this:
- Large Silicone Doming Tray
$14.00
- Resin 12 oz. Set (deals on multiples)
$36.00
- Button Shank - Clear Plastic 10mm, 10-pk
$3.00
- Spring Drill - the easiest drill for resin jewelry
$15.00
- Tiny Pointy Swabs - pack of 100
$4.80
(selections can be changed at checkout)
You'll also need
- Fabrics of your choice - fabrics react differently in resin, watch the tutorial to help you choose which will work best
- White cardstock, if you decide to back your fabrics as shown in the video
- Waxed paper or another non-stick surface (back of your doming tray works, if you're not using it for other projects)
- Sharp scissors
- Paper towels
Please save, share, and follow us:
Here's a way to turn fabric bits into lightweight, washable buttons (or jewelry, or magnets,...)
Follow the video tutorial for tips on how to best support and resin your fabrics, then choose if you want to drill through them, or insert a button shank in the back.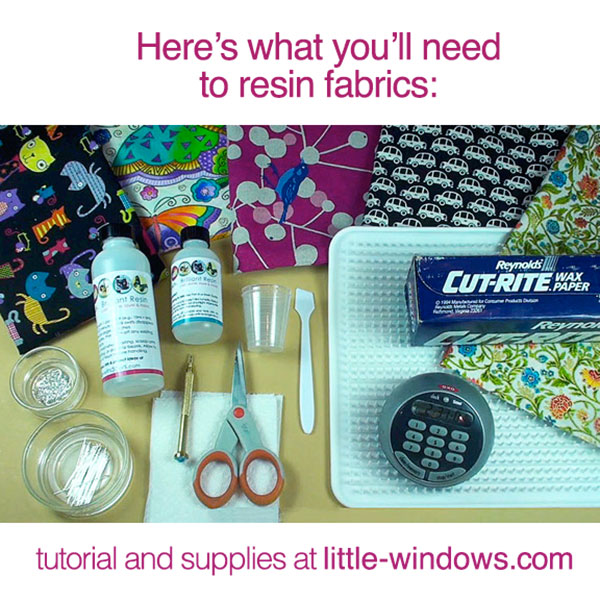 This photo shows our older drill, now we recommend a Spring Drill for ease and control, but you can also use a power drill if you want to drill holes larger than 2mm.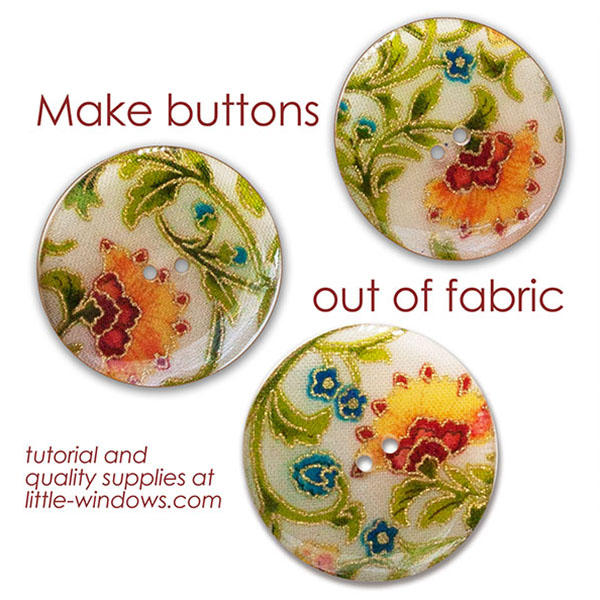 All of the following buttons have clear button shanks embedded in the resin on the back side: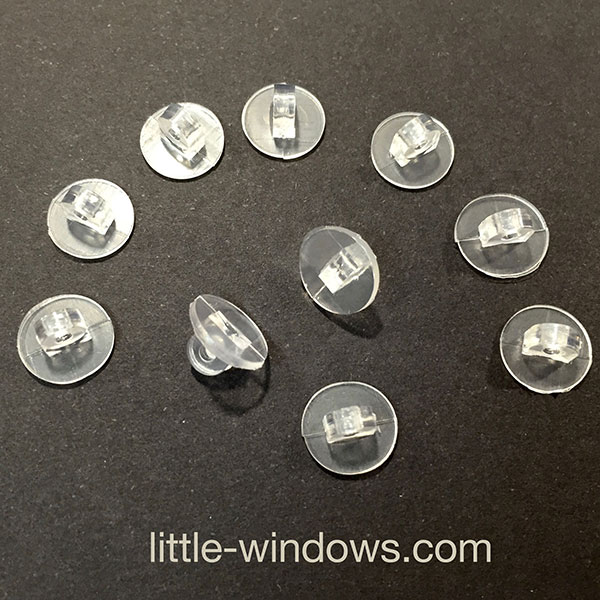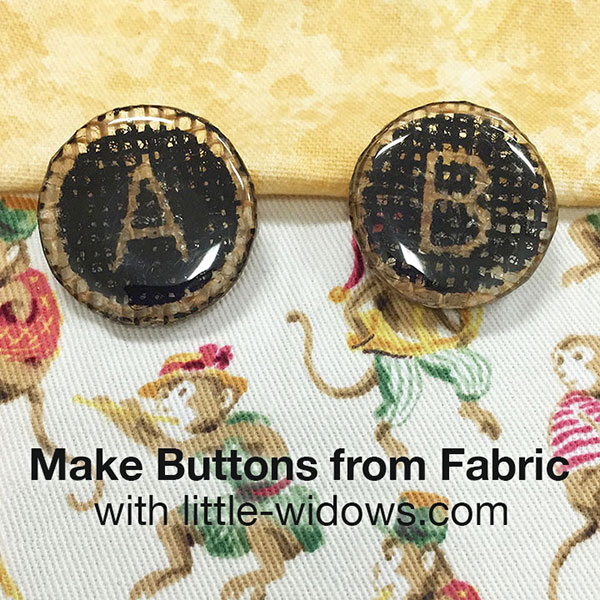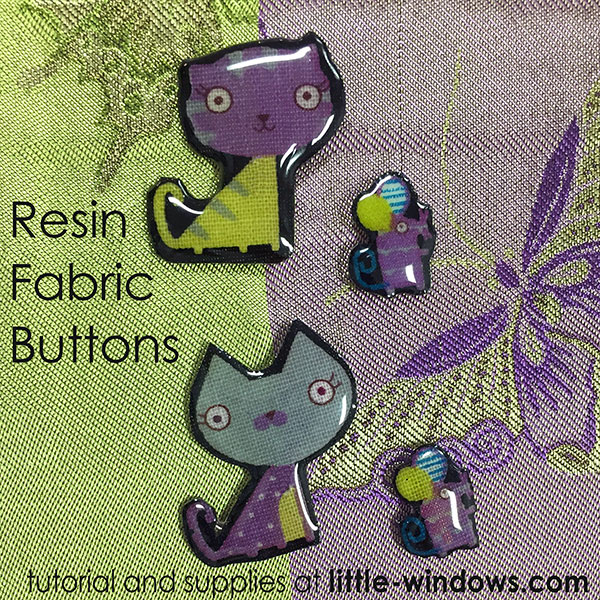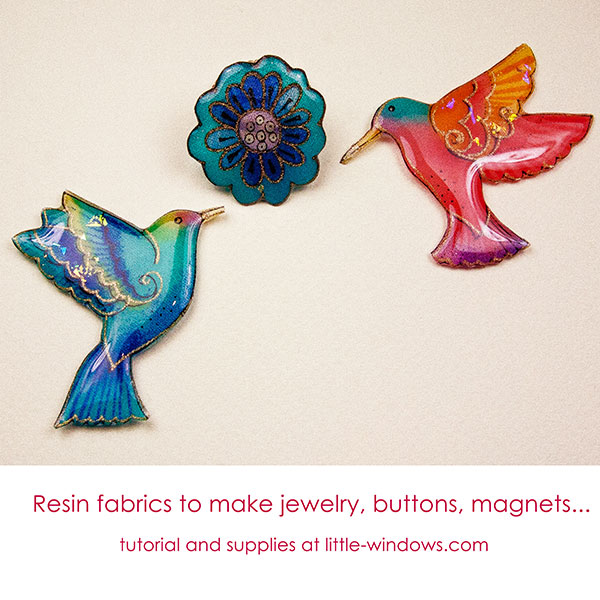 MORE IDEAS using the same awesome products:
IDEAS+HOW-TO's
Want to learn more about a product, technique, type of project, or topic?
See more project ideas sorted by...
Choose an Effect/Technique
All Effects

3-D

Bendy Resin

Bezels

Casting

Thin Coat/Varnishing

Dichroic/Color Shift

Doming

Doming-Up

Double-sided Doming

Flowers in Resin

Embedding Elements

Feathering/Swishing

Glow In The Dark

Ink Effects

Layering

Making Multiples

Marble Effect

Ocean Looks

Personalizing

Petri

Punch Projects

Resin On Fabrics

Resizing Images

Ripple Effect

Special Effects

Stamping

Stone Effects

Surface Finishes

Twisted Resin

Wire Work
Choose a Type/Form of Project
All Types

3-D Projects

Bookmarks

Bracelets

Buttons

Cabochons (half-spheres)

Candle Votives

Charms

Coaster

Cosplay/Costumes

Decor

Dishes/Containers

Earrings

Fandom

Frames

Games

Hair Accessories

Heart Shaped Projects

ID Tags/Markers

Keychain

Knob/Pulls

Magnets

Memorabilia

Necklaces

Ornaments

Paperweight

Patriotic

Philatelic (stamps)

Photo Keepsakes

Pins

Prayer Beads

Resin Eyes

Rings

Sun Catchers

Zipper Pulls
Choose an Event, Theme, or Holiday
All Events

All Special Events

All Holiday

Pets

Ancestry/Family

Wedding

Anniversary

New Baby

Faith

In Memory of

Solidarity/Awareness

Game Day

New Year

Valentines

Easter

Mother's Day

Graduation

4th of July

School Days

Halloween

Christmas

More Special Occasions
Materials you can put in Resin
All Materials

All Resin Colorants

All Organic Matter

Alcohol Ink

Acrylic Paint

Ashes

Beads

Black and White Looks

Candy

Clear Photo Film

Color-Shift

Crystals

Dichro-ISH Films

Dried Flowers

Fabric/Fiber

Glitter

Glow In The Dark

Hair

Liquid Colorants

Nail Polish

MakeUp

Metal

Mica Powder

Mixed Media

Papers

Photos

Plastics

Polymer Clay

Postage Stamps

Resin Color Film

Sand / Stones

Sequins

Shells

Shrink Films

Stickers

Washi Tape

Wire

Wood