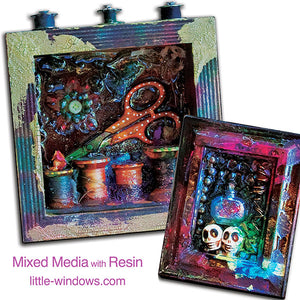 If you've stopped by our booth at a show, you've most likely seen some work by Mixed Media Artist Belinda Spiwak.  She combines found objects and scraps from other projects with a variety of other mediums like acrylic paint, texture paste, and color spritz, resulting in stunning collage effects. 
She then pours resin over select areas, letting some of the original textures show through.  The results are dramatic 3-D scapes.  Some tell a story, others are just fun!
Here are some examples:

Here's one more way you can use Little Windows Brilliant Resin to enhance your creations.  Belinda collaged many elements in this piece, then dripped resin over it, in an irregular way, protecting the piece, securing the bits in place, and creating great contrasts in texture and finish.  Click the video link below to see how it's done.
Click this image for a link to Belinda's Facebook Page, and check out her latest creations.  She's a true talent, turning any material - from papers to fabrics to metals - into stunning, layered art.  Thank you Belinda!

One of Belinda's favorite sources for interesting bits and pieces is a website called skybluepink.com, and I'll admit I'm obsessed with this site and their teeny-weeny puzzle pieces, micro-buttons, asian goodies, charms and ephemera of all sorts - lots to add to your resin creations.  So be sure to take a look for unique goodies at excellent prices!