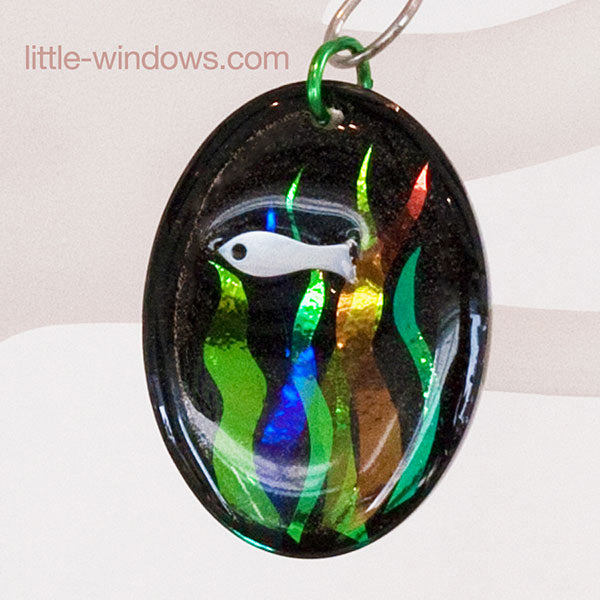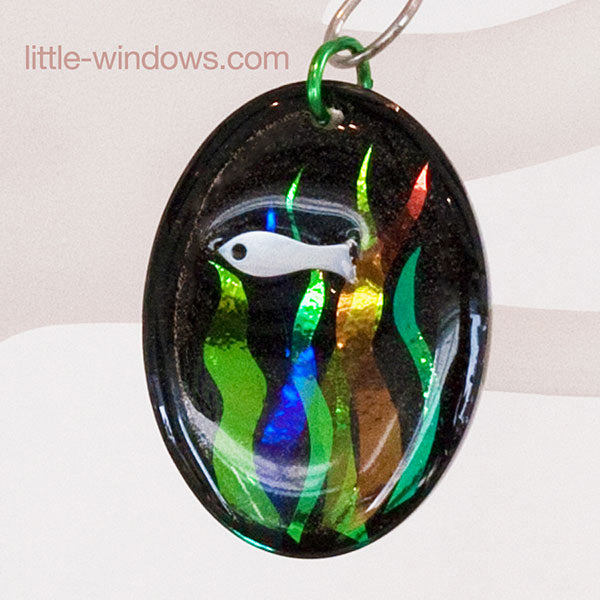 Dichro-ISH Films in Resin: Specific Shapes
What you'll need to make this:
- Dichro-ISH Supplies
$12.00
- Medium Resin Mold Set in silicone, with cropping template (stencil)
$15.00
- Small Silicone Resin Mold Set with cropping template (stencil)
$15.00
- Large Silicone Doming Tray
$14.00
- Resin 12 oz. Set (deals on multiples)
$36.00
- Tiny Pointy Swabs - pack of 100
$4.80
- Black Rubber Chain
$4.00
- Sterling Silver Plated Snake Chain
$8.00
- Jumprings 10-pack
$7.00
- Button Shank - Clear Plastic 10mm, 10-pk
$3.00
- Swivel keychain finding - 10 pack
$9.00
- Super Strong Magnets - LARGE - Value Pack (10)
$8.00
(selections can be changed at checkout)
You'll also need
(You may not need everything on the list above or below, it will depend on the project you want to make)
- Charms or other decorations to add to your castings
- Other jewelry findings to complete your project. Some are listed above, but I'm sure you'll have more ideas :)
- Sharp scissors
- Paper towels
Please save, share, and follow us:
These beautiful creations can be made in thin or thick layers depending on the look you're going for. They can then be turned into jewelry, buttons, magnets, keychains, drawer pulls/cabinet knobs, .......
You'll want to let each layer set up for at least 4 hours. Allow the final cast layer to sit at least 12 hours before demolding to avoid fingerprinting your pieces. You can Dome Up your pieces for a smooth finish, or you can add charms or other elements to the top layer by waiting about 1-1/2 - 2 hours then push in a charm or other element. If you've allowed the resin to thicken up enough, the pushed in charm will create a ripple effect around the shape, which will catch the light and add more dimension to your pieces.
In this little video you can see how this film catches the light and changes color as the angle of view changes.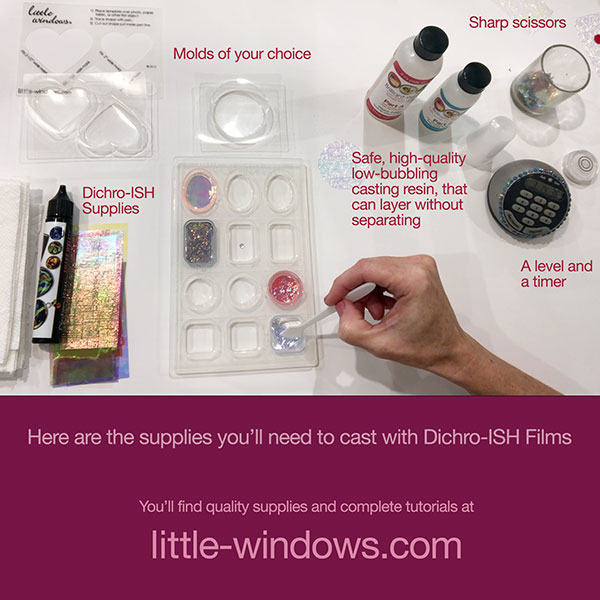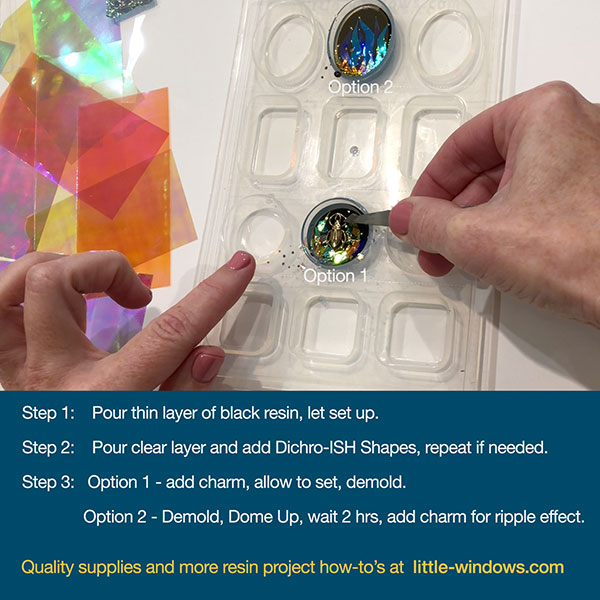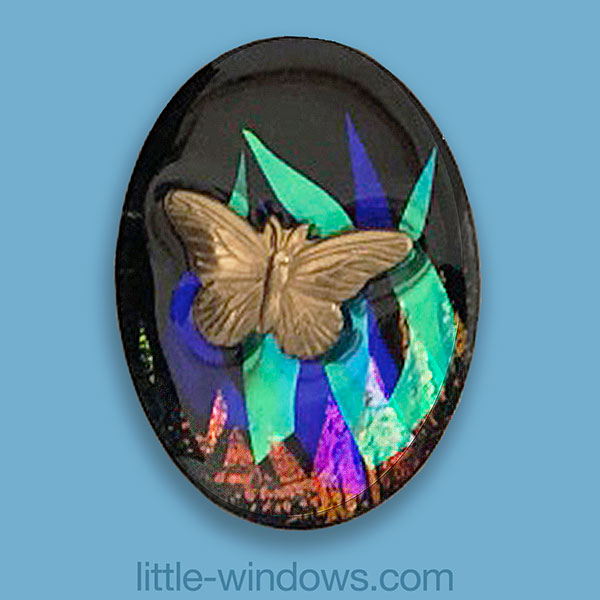 To turn your castings into jewelry, you can drill through your piece and add a jump ring, pinch bail, or wire.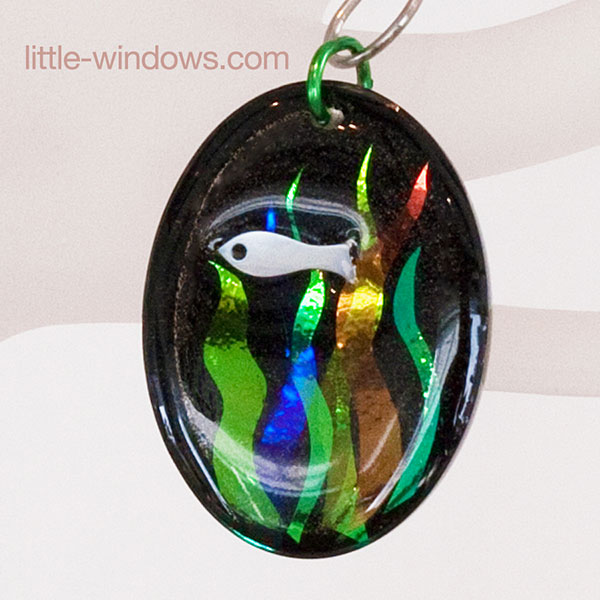 Or you can glue a flat bail on the back of your piece like these ones.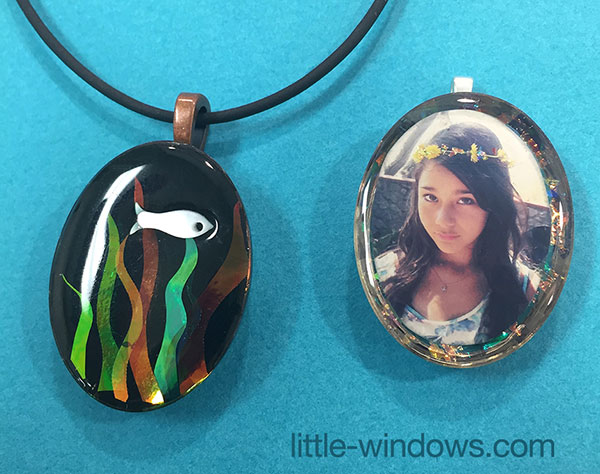 Doming works differently, you can cut your doubled-up films into any shape you'd like.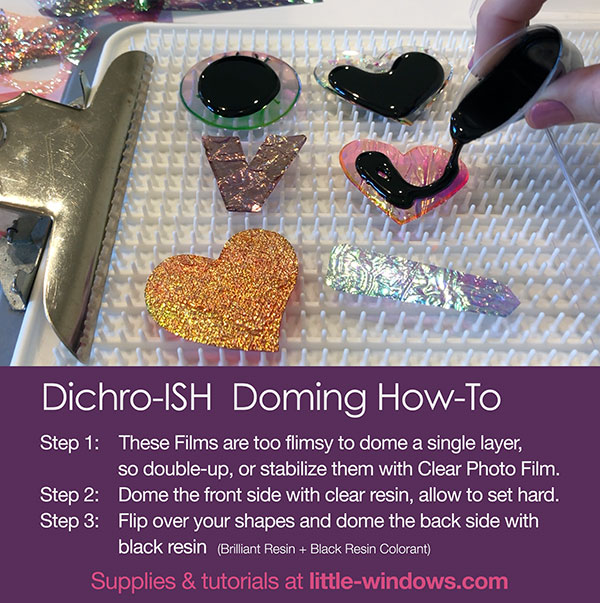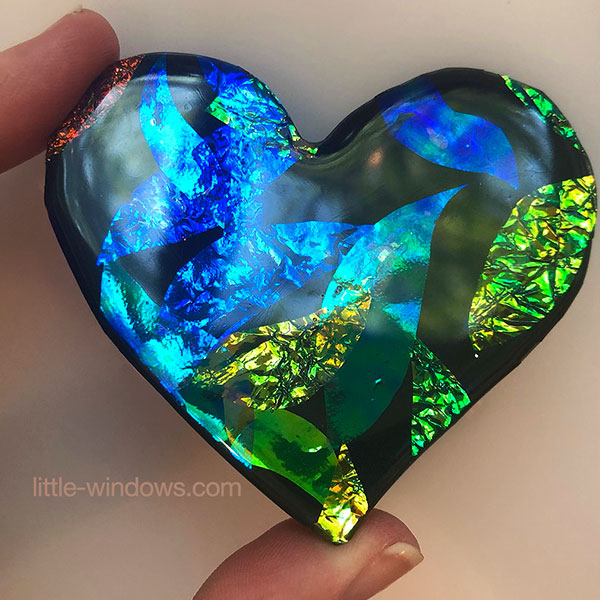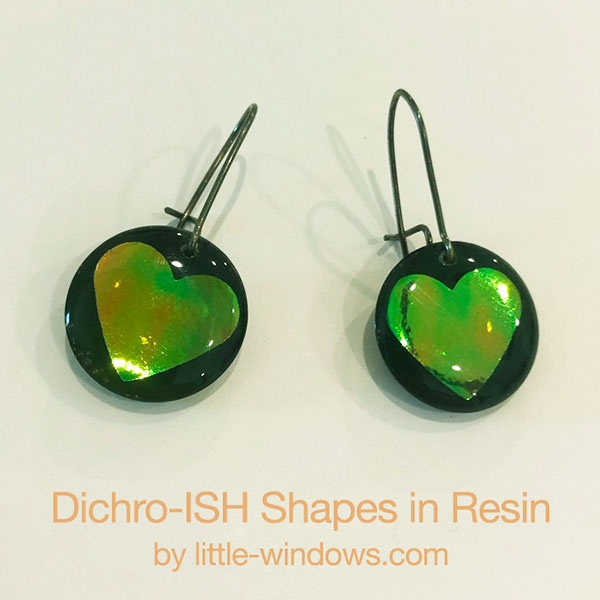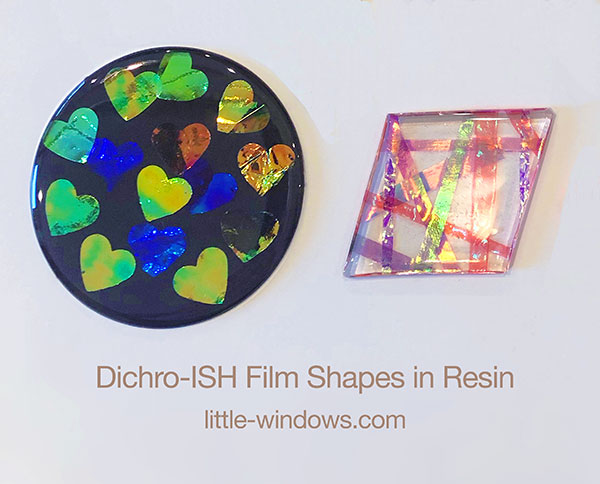 You can also create Dichro-ISH pieces in bezels. Start with a thin layer of Black Resin, then add a clear layer and add your shapes, then Dome Up with a 3rd layer. You can press charms in to create a ripple effect, or just leave it smooth and shiny.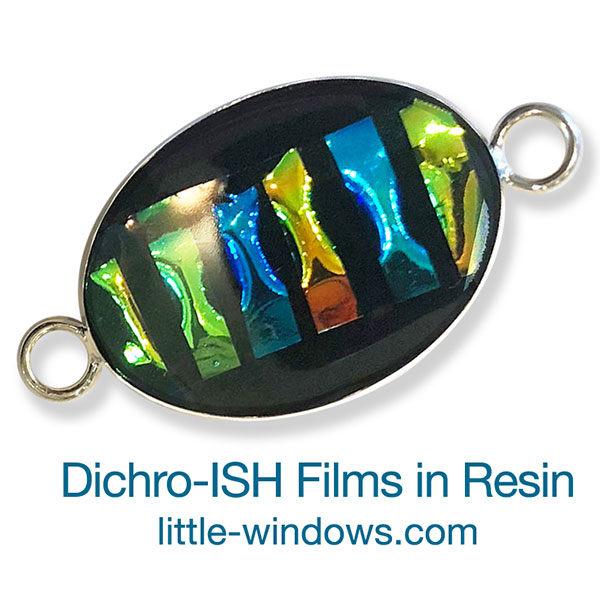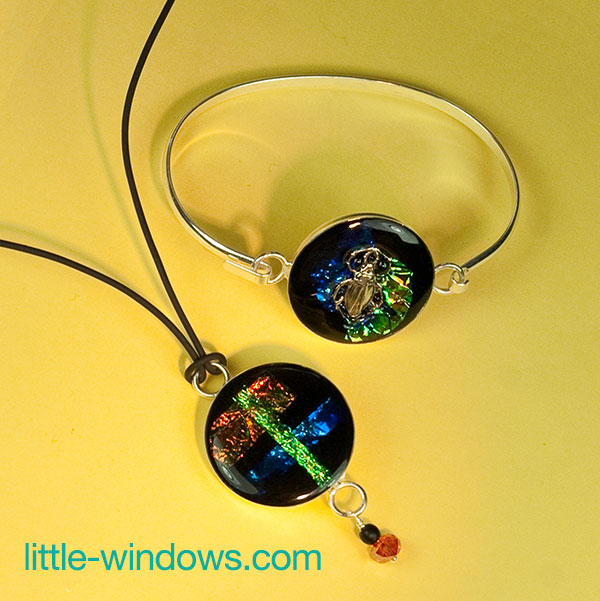 Here are some other projects made with the same Dichro-ISH Films.
IDEAS+HOW-TO's
Want to learn more about a product, technique, type of project, or topic?
See more project ideas sorted by...
Choose an Effect/Technique
All Effects

3-D

Bendy Resin

Bezels

Casting

Thin Coat/Varnishing

Dichroic/Color Shift

Doming

Doming-Up

Double-sided Doming

Flowers in Resin

Embedding Elements

Feathering/Swishing

Glow In The Dark

Ink Effects

Layering

Making Multiples

Marble Effect

Ocean Looks

Personalizing

Petri

Punch Projects

Resin On Fabrics

Resizing Images

Ripple Effect

Special Effects

Stamping

Stone Effects

Surface Finishes

Twisted Resin

Wire Work
Choose a Type/Form of Project
All Types

3-D Projects

Bookmarks

Bracelets

Buttons

Cabochons (half-spheres)

Candle Votives

Charms

Coaster

Cosplay/Costumes

Decor

Dishes/Containers

Earrings

Fandom

Frames

Games

Hair Accessories

Heart Shaped Projects

ID Tags/Markers

Keychain

Knob/Pulls

Magnets

Memorabilia

Necklaces

Ornaments

Paperweight

Patriotic

Philatelic (stamps)

Photo Keepsakes

Pins

Prayer Beads

Resin Eyes

Rings

Sun Catchers

Zipper Pulls
Choose an Event, Theme, or Holiday
All Events

All Special Events

All Holiday

Pets

Ancestry/Family

Wedding

Anniversary

New Baby

Faith

In Memory of

Solidarity/Awareness

Game Day

New Year

Valentines

Easter

Mother's Day

Graduation

4th of July

School Days

Halloween

Christmas

More Special Occasions
Materials you can put in Resin
All Materials

All Resin Colorants

All Organic Matter

Alcohol Ink

Acrylic Paint

Ashes

Beads

Black and White Looks

Candy

Clear Photo Film

Color-Shift

Crystals

Dichro-ISH Films

Dried Flowers

Fabric/Fiber

Glitter

Glow In The Dark

Hair

Liquid Colorants

Nail Polish

MakeUp

Metal

Mica Powder

Mixed Media

Papers

Photos

Plastics

Polymer Clay

Postage Stamps

Resin Color Film

Sand / Stones

Sequins

Shells

Shrink Films

Stickers

Washi Tape

Wire

Wood